Tammin Sursok Meet & Greet
FOR IMMEDIATE RELEASE:
September 29, 2016
Contacts:
Joe Bell Kiara Catanzaro
Director of Corporate Communications Marketing Director
The Cafaro Company Millcreek Mall Complex
jbell@cafarocompany.com marketingdirector@millcreekmall.net
330-743-7688 814-868-9000 ext. 102
724-730-4532 (Mobile)
Taking a stand against childhood bullying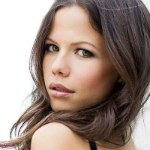 Tammin Sursok, one of the stars of Pretty Little Liars on the Freeform network, will visit Millcreek Mall on Sunday, October 9, to meet her fans and champion the fight against childhood bullying. She will sign autographs and pose for pictures in the Macy's Court, 1 – 4PM.
While this event is FREE, fans are asked to limit themselves to one autograph and photo each. For fans who want to shorten their time waiting line, a Fast Pass is available. Here's how it works: If purchases at any combination of Millcreek Mall stores total $100 or more, take the receipts to the Customer Service Center. The customer will receive a Fast Pass, which enables them to enter a shorter "express" line to meet Tammin. (One Fast Pass per customer, while supplies last.)
Tammin, who plays the part of Jenna Marshall, was bullied herself as a teenager. Now she is appearing as an Ambassador for Malls and Retailers Unite Against Bullying. This campaign takes place during the month of October, which has been designated National Bullying Prevention Month. Every year one in every four school students reports being bullied. These victims are at greater risk for poor school adjustment, sleep difficulties, anxiety and depression. Those victimized by their peers are 3.3 times more likely to report suicide attempts than children who are not bullied.
The campaign to stop childhood bullying is supported by Captain McFinn and Friends and the PACER National Bullying Prevention Center. Captain McFinn and Friends is an organization that emerged from a popular children's book series with an anti-bullying message. This message is promoted through the Club McFinn Virtual Aquarium at Millcreek Mall. Captain McFinn also offers a free Swim & Play app for mobile devices that engages children in games and activities to promote healthy social behavior. PACER is an organization that was initially founded to promote acceptance of children with disabilities. In 2006 it branched out, establishing its National Bullying Prevention Center.
Millcreek Mall Complex is located on upper Peach Street and Interstate 79 in Millcreek Township, near Erie, Pennsylvania. It has been serving the community since 1975. The facility was renovated in 1996, expanded in 1999 and underwent massive renovation in 2008. The complex currently comprises more than 2 million square feet of shopping, lodging, dining and entertainment. For more information, visit www.millcreekmall.net. Millcreek Mall Complex is owned and managed in association with Cafaro Company affiliated entities, based in Niles, Ohio. Cafaro is one of the nation's largest privately held shopping center developers, owning and overseeing more than 30 million square feet of commercial real estate in 10 states. Founded by the late William M. Cafaro in 1949, the organization is now in its seventh decade as a family owned and managed business. To learn more about the Cafaro family of companies, go to www.cafarocompany.com.
###
(NOTE: Tammin Sursok is available for interviews in advance, as well as the day of the event. To schedule an advance interview, please contact Sean McEwen at: sean@charliebabyproductions.com or at 310-435-7630)